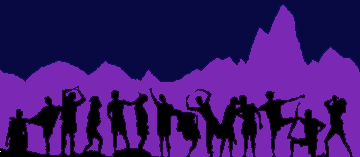 "The Ultimate Field Trip"
Welcome to the original site for WFS Trip #25 (well, any trip for that matter), which took place during the summer of 1996. It's changed a little bit since then (and has moved a number of times), but just about everything is here, and maybe if I get around to it, I'll add some more stuff. At any rate, it was a great trip, and I'm glad Steig and I did the website back then.

Below are the various sections of this site. If you want to see what Steig and the gang are up to this year, check out the official (read: current) website.

If you have any trip 25 photos, stories, etc that you want to share with the world, drop me a line.!

News: As of 7/31/00, I've been adding lots of additional photos to the pages. I'd guess I have about 200 or more photos to add to the site, and I'm just starting. Check out the journal pages - an "Additional Photos" section is at the bottom of each page. Right now I have up through day 10, with more photos (later in the trip and more up to day 10) to come. Stay tuned.

What's here:

Created and updated by me.